By flycryptoguy
Source: https://steemit.com/html5coin/@flycryptoguy/html5-coin-going-up-since-last-month-but-you-would-never-know
Hello everybody!
HTML5 Coin: I am no expert, but I AM a fast learner.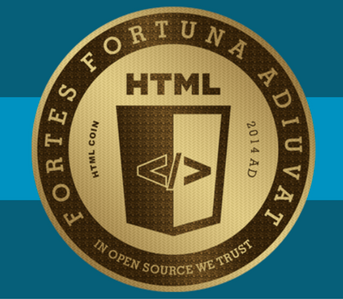 Recently when I started getting back into crypto I had some coins that I kept from a few years ago, one of them was HTML5 coin. I had a ton of them. I was sad to see that the site had not been updated and half the links there were dead. There was no place to trade them except for Bleutrade and the price was next to nothing. 1 satoshi - no volume, nobody would buy them. Until, luckily, I happened to figure out, somehow, that HTML5 coin was also trading on the Dogecoin exchange there. Still very little volume and the price was even lower(!) than 1 sat, but at least I could dump the coin and use the money to buy some DGB, which I did. And boy oh boy did that pay off!!!

But I couldn't help thinking about HTML5 Coin, sitting there so cheap. Especially after my DGB purchase. RDD and Verge also burning up the charts too! So I meandered back to Bleutrade and my jaw almost hit the floor. Since my dump fest, the price had literally skyrocketed from .001 doge to .009 doge. OMG!!!
![Screen Shot 2017-06-04 at 8.57.20 PM.png]
(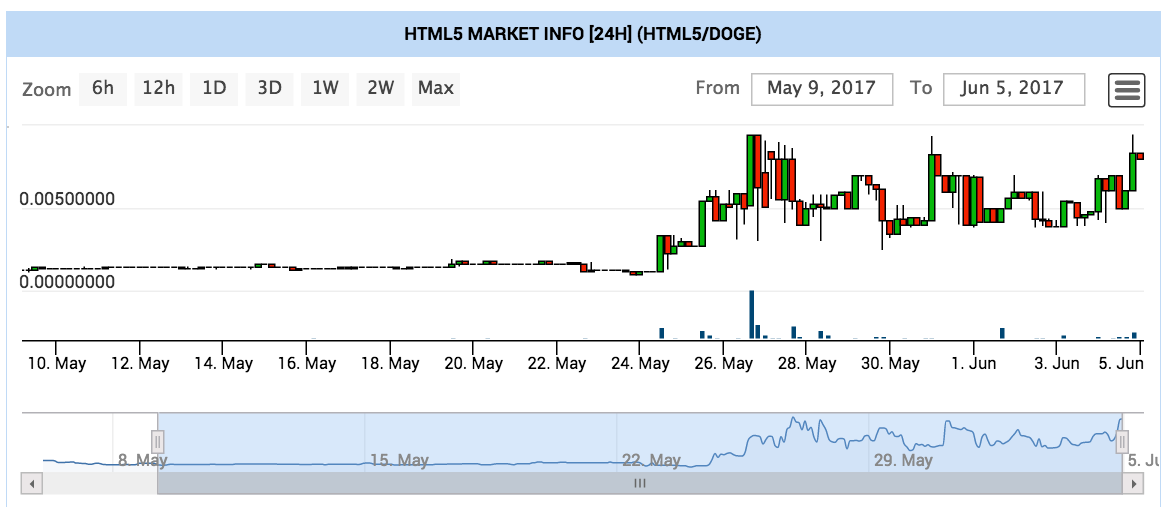 )
I immediately grabbed some doge and went to work buying up as much as I could. If you are interested, please use my link for Bleutrade. THANKS. bit.ly/BleuLink
I purchase my Bitcoin on Coinbase, not the cheapest place but I trust them. Here is my link for that bit.ly/RalphCoinbaseLink
Well the very next thing I get an email from the dev team that the HTML5 site has been updated(!!!!!) and that there is a new wallet coming out. Here is the email that I got:
Dear HTMLCOINERS,
www.htmlcoin.com website updates have been implemented. The team would like to thank the countless members who help us since 2014.
Do not buy or trade outside of Bleutrade until we update the new wallet in this coming couple of weeks.
PLEASE DO NOT MINE YET UNTIL UPDATE IS DONE.
All the best,
HTMLCOIN TEAM
The "crypto currency model" is done by consensus.


Will this coin be the next top volume? Maybe, maybe not, but this morning folks, DRUM ROLL PLEASE, I already doubled my money. In this environment, how many one to two satoshi coins stay there? Do your own research and take ownership of your own decisions. I am just some dude sitting in his pajamas reading stuff on the internet. Not a pro.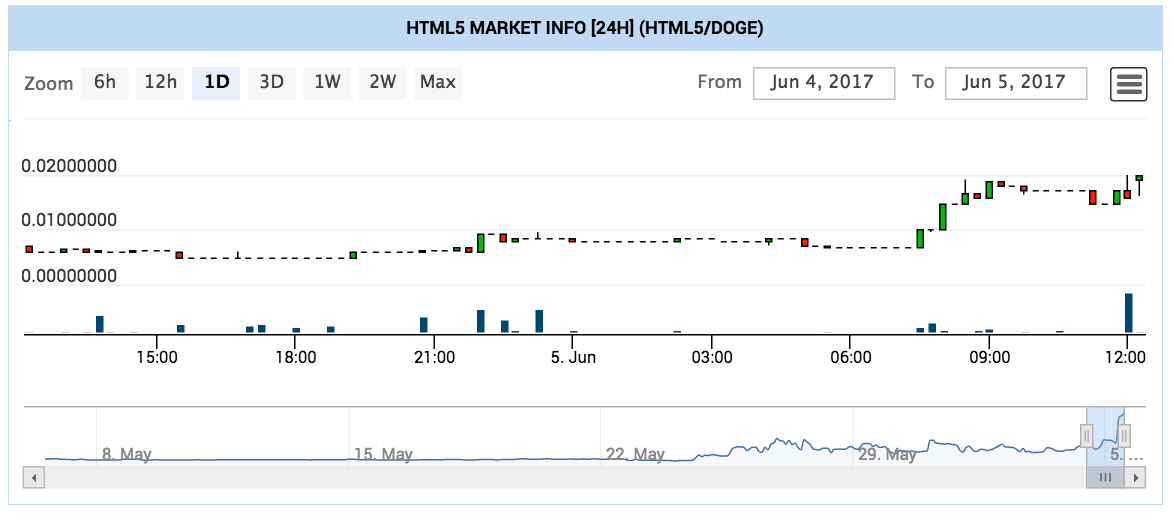 As the saying goes, a word to the wise is sufficient. Take your shot and BE CAREFUL OUT THERE!!! And as always, pay it forward.
: )